Join our CEO Lisa Toth every weekend on Success 105.7 talk radio show as she interviews a different guest every week in our community. Listen live at Success 1057.com, Saturdays at 9am or Sundays at 11am or anytime on SoundCloud.
Celebrating  Thanksgiving.
Huge THANK YOU to staff and volunteers!  Go Team Rise!
Mardi Gras Party and Dance by Rise Staffing 2017 
What fun we had
Rise Staffing would like to thank the following: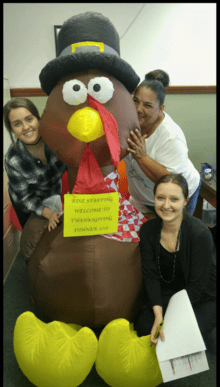 Centenary United Methodist Church
Deaconess Melanie Dewey
Ms Ann, Ms Joanne, & Suzanne Johnston
Chuck Baldridge – DJ
Rib Crib – Sand Springs
Charlies Chicken – Sand Springs
Reasors – Sapulpa
Flowers Bread Store – Sapulpa
Car Mart – Sapupla
​Pop Shopp – Sapulpa
Randy & Elaine McGoffin
​North Heights Church Volunteers
​Keith, Nikki & Alyssa Thompson
Mary Lewis & Sandy Lewis
Asher Wood
Ronny & Jennifer Hardage
Ashleigh Barrett
​Justina Kemp
Virginia Baldridge
Grace McClain
Holly Rosser
​Greg Hisaw
Amanda Gibson
Branson Ewing
Suzanne Johnston
​Linda Clinton
DeMario,  Jeffery, Brad, Barbara, Desiree, & Kaitlyn
Counties We Serve
Tulsa

Creek

Osage

Wagner

Pawnee

Rogers

Washington